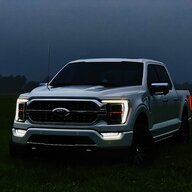 First Name

Mike
Joined

Sep 26, 2020
Threads
Messages
Reaction score

891
Location
Vehicles

2021 Ford F150 Platinum 3.0 Powerstroke
Occupation

Neonatal Respiratory Therapist
Well, a couple months ago, in LA (on my way to a wedding) I had the unfortunate experience of having a modded out Subaru BRZ cutting in front of my on the freeway. Moments later, the vehicle downshifted and blew its engine, raining out debris all over my truck. Chunks of metal, rubber, and other stuff hit the front and sides of the truck. Almost nothing was spared except the passenger rear door and the truck bed. Paint chips, broken fiberglass, damaged windshield, dime size dents, and damage to the headlights, grille, roof, etc. Damage is kinda hard to see on camera as it's A LOT of small scratches, dents, chips, etc and star white does a good job of hiding it from the camera. WAAAYYY too many tiny up close photos to post lol.
Current estimates for repair is up to $18k now with labor. While the shop and insurance go back and forth, my truck has now been standing for 22 days. Expecting resolution hopefully today so work can actually start. I wasn't able to obtain the Subarus insurance info.
Lessons learned:
Make sure you have a good insurance company. I have good coverage, but the company itself has become terrible and at times, unreachable post Covid with customer service. I'll refrain from naming them for now as it's an open claim.
GET A DASH CAM. Can't tell you how many times the insurance has had me repeat my version of events as they are suspicious of something, not sure what.
GET PPF? (at least for the major front parts). It wouldn't have prevented the broken fiberglass or dents, but damage would have been less for sure overall.
Here are some photos I got of the truck taken apart.
Side note: with paint work being done and parts being replaced, kinda thinking of paint matching the mirrors, handles, front bumper chrome piece and painting fender vents black. Headlights are being replaced and thinking of asking them to order the tremor black ones. Thoughts on how that would look?
Hoping my rare baby 3.0 is fixed and rolling soon 🥲
Last edited: