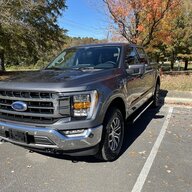 First Name

Brandon
Joined

Jul 13, 2021
Messages
Reaction score

328
Location
Vehicles

F 150
Tonneau Covers... Already at the mention, I'm sure you have lots of thoughts. Everyone varies on if they want one, function, price, etc. I wanted to share with you my thoughts on why I chose the Leer HF650M, the install process, and my first impressions. And to clarify, I'm not sponsored in any way, I just want to give back to this awesome forum. I hope you find this helpful!
Why this Tonneau Cover?
First of all, I wanted a hard folding cover for:
Theft Protection - don't cut through my cover!
Weather/rain protection - I need the ability to pack the bed with luggage for a trip and not worry about everything getting soaked.
Full working space in my bed when I folded it up.
The ability to Not cover my tail light when folded up.
Low Profile - I don't want a big honkin' cover stickin' up.
This left me with a few options. The ones that rose to the top of my research list were UnderCover Armor Flex, Bakflip MX4, and the Leer - all of which are in the ~$950 to $1,050 range. I know there are some others out there but these were the ones I was drawn to.
As I began to research, there were a few other things I had to decide on. Drain Rail vs. No Drain Rail was one. The Armor Flex and Bakflip both have drain rails that stick into the bed a little more than no-drain rails. Then you have to cut a hole in the rubber gasket of the bed to drain - I wasn't a fan. The next was a wire latching mechanism vs something else. As
@05RubiconLJ
aptly noted in his review:
​
On the UnderCover, which uses a simple wire mechanism, there is enough play in the tailgate panel to get a coat hanger or other hook into the bed, hooked on the wire, and viola your cover is open and your stuff is gone.​

​
​
Granted, you'd have to know the wire is there to break in, but still, for someone motivated they could do it.
SOOO, all that to say, I choose the
Leer HR650M
for a couple of reasons. It gave me all my original points above, plus it didn't have a drain rain, still seemed very water-resistant, and has a pinch mechanism rather than a wire mechanism that made it less easy to break in.
As a downside, I have heard that Leer doesn't have the best customer service. So I chose to go with an online retailer who would work with the manufacture should there be any issues, like something being broken during shipping.
I ended up going with
AutoAccessoriesGarage.com
and when you call or chat with them you can get a discount. They ended up giving me about 12% off which was the cheapest I could find anywhere. I'm not sponsored by them or anything, I just liked their business and their customer service. They originally said it would take about 1.5-2 weeks for shipping - it actually showed up in 3 days. I was impressed. Too bad my truck didn't show up that fast (amiright?!?
).
2. Install Process​
Here's what you came for - Pictures!
The box showed up worse for wear but after inspection, everything was just fine.
Leer provides a great
install video
that made the whole process really easy! I watched that right before and that was all I needed.
The cover comes with the rails and 8 clips that look like this:
Put the rails on each side with 4 clips and it looks like this:
You do put a little foam piece on the end to keep the front from scratching the bed.
I did notice there was a little gap between the rail and the front of the bed. The tonneau cover has a seal that lays down on top of the front bed rail. It also comes with a separate sticky gasket seal that probably goes there. The instructions weren't clear on that, and I left mine off for now. If I notice a lot of water infiltration around the front then I will likely put the gasket seal on.
Once you get the rails on, then throw that bad boy up there and get excited for what's to come.
View attachment 31016
There are two latches, one on either side, that clip onto the rail and bolt down the cover. It also includes a safety strap in case something happens to help prevent the cover from flying off. This is what it looks like on the underside for the install:
Once I got it installed I had to play with the fit for just a minute or two to get all pannels to latch.
And that was it! It was actually pretty easy to install. It took me about an hour, but I also had my 4 y.o. "helper" who I was wrangling with during the process. I think it would only take about 30-45 min normally.
There are a couple of ways it can travel. Normal cover like directly above. Flipped back:
View attachment 31029
Those clips at the top would be clipped to the other side to hold down the top in this position. I didn't get a pic like that. (My bad...)
Orrrrr.... what I think is really cool, it can be propped up and give you almost full bed access. And as a plus, it doesn't lean up on the glass.
The clips seem pretty solid and will definitely stay in there well. It was a little hard to take off, but I'd rather that than them almost falling off. And when not in use, they clip in under the cover:
Here's the installed cover with some views of how the seals lay down. This was right after I installed it so those "gaps" where the pannels connect will go away after it gets broken in.
ANNNDDDD one last thing... It works perfectly with the power tailgate.
3. First Impressions​
Initially, I'm very impressed! The cover is very solid, the seals lay down well and look like they will hold up to weather pretty well. It's only been on a few days but I'll update once we get some rain. The latching mechanism was surprisingly very easy to use and did not feel cheap. You could unlatch it easily with one hand, and you can do so from either side. I thought I would really have to squeeze to get that thing to open but it wasn't bad. The prop rods seem pretty sturdy. I wouldn't put a ton of pressure on them to test it, but it will certainly stand up to the job. I do have to say, it was a little difficult to get them off when they were locked in holding the cover up. That might just take me getting use to though.
All in all, I would highly recommend! It seems like it's going to be a great cover and exactly what I wanted.
If you have any questions, let me know. I'd be happy to post any other photos or thoughts that I missed.
P.S. - Kudos to all on this forum for posting their experiences with their truck and accessories. Your posts and discussions have really helped me think through how I want to set up my truck. This is my attempt at returning the favor. Enjoy!
Last edited: