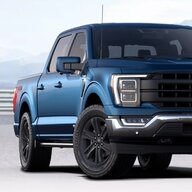 First Name

Josh
Joined

May 9, 2022
Threads
Messages
Reaction score

9
Location
Vehicles

'22 F150 Lariat Powerboost 502A
We just got home this afternoon from picking up our new '22 502A Powerboost after trading in our beloved Grand Cherokee Diesel. We hooked up the trailer to check some measurements since the receiver height was pretty close to the Jeep to see if I needed to adjust. In this picture the tongue jack is not touching so all the weight is on the truck and trailer. While there wasn't a lot of sag the WDH bars only recovered 14% of the lift in the front so I adjusted the bars one hole which got me to 60%. I haven't visited scales yet though.
My real question is, does it look like I should flip the drop hitch over and lower it one hole or does the height look good?
My secondary question is since the manual requires WDH over 5000lbs and our trailer is only 3500 does it really even matter how much sag it recovers? In the config on the Jeep after cat weights we could put the bars in place by hand with a bit of effort, and the same with the truck. Once I repositioned the hangers up 1 hole it can't be done by hand anymore and needs the tool.