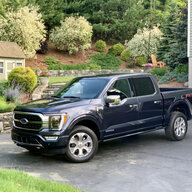 First Name

Kevin
Joined

Aug 24, 2020
Messages
Reaction score

378
Location
Vehicles

3 Ford Explorers
Occupation

Engineer
I'm looking for a hard folding cover that will lock partially open - so you could flip just the last section up.. I think Bak made one that you would have to unlock each section as you flipped it up... Blocking the rear window isn't a problem for me, my last 4 trucks were all ordered with mirrors on each door

plus I think the latest one has a cargo camera... The cover has to look good and be reasonably water tight, though that being said, the soft folds I've owned up till this point have done a reasonable job in that department. I'd love it if someone made a reasonably priced product, <$1k, alas, the price of everything is crazy these days... Retractable's look awesome, but in a 5.5' bed, space is just to valuable to take up.. A Hard roll-up like that revolution x4 is on my short list still as well..
@tbell_1
-
I can't speak to the folding covers from experience, but my new RetraxPro locks in any position. I really like that feature. I too have the short bed but haven't experienced much loss of bed length, as pointed out earlier by
@PungoteagueDave
, but that's a function of what you're carrying. Given that you have a 5.5 bed, I assume that you aren't carrying a lot of long items but I could be wrong.