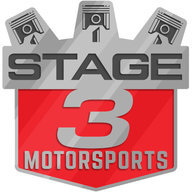 Well-known member
Diamond Sponsor
Since I have received this question a few times this week I wanted to make this post so those that those who are interested are informed and are aware that these are usually in stock @ Stage3.
-We do not have them listed on our website for fitment on the 21 (roush does and this is the same kit)
- Since Fox has said they don't recommend their kit for the 21 and are making a 21 specific kit, we chose not to list either for fitment.
- as you will see plenty of people are running these kits, so they will work with height adjustments.
31 kits in stock and shipping today,
Anyone who is interested message me for forum pricing.
Frank
2015-2020 4WD F150 Roush Fox 2.0 Suspension System 422014
Highlights:
Awesome suspension overhaul for your F150
Includes Fox 2.0 coilovers, 2.0 rear shocks, and Roost Shields
Adds up to 2" of front leveling
Rear shocks handle up to 1.5" of rear lift
Drop-in replacements for factory components
Complete Roush Fox 2.0 Suspension Package
When Roush went looking for a suspension system to put on their very own Roush-made F150s, they turned to the suspension wizards at Fox and their 2.0 Front Coilovers and 2.0 Rear Shocks to seal the deal. This Roush Fox 2.0 Suspension System comes with a pair of Fox 2.0 Front Coilovers, a pair of Fox 2.0 rear shocks, and a pair of Fox 2.0 Roost Shields for the rear shocks and gives your 2015-2020 F150 of choice a huge improvement in both on-road handling and off-road performance. The front coilovers even provide up to 2" of front leveling which allows you to clear larger wheel and tire combinations and score some extra ground clearance for your potential off-road adventures. Both the front coilovers and rear shocks drop right into place of your F150's factory coilover assemblies and rear shocks, making the Roush Fox 2.0 System a hassle-free way to give your F150 the suspension performance that it really deserves.
Front Adjustable 2.0 Coilovers with up to 2" of Leveling
For the front of your F150, FOX gives you a set of their awesome 2.0 Adjustable Coilovers to replace the stock shocks and springs. The coilovers provide vastly improved rebound, compression, and articulation while still keeping your factory ride when you're on pavement. The coilovers feature adjustable ride height from 0" to 2", making them a great way to level out the front of your truck to get on bigger tires. They come pre-set at 2" of ride height to give you maximum leveling right out of the box. The coilovers have nitrogen-charged design with a 5/8" chrome plated and heat-treat shaft that's built for performance and reliability. These aluminum body 2.0 coilovers are wrapped in finely-tuned coilover springs that deliver a excellent performance.
Fade-Resistant Aluminum Body Shocks
Update your truck's rear suspension with a pair of FOX 2.0 Aluminum-Body Shocks that drop right into place of your stock shocks and provide improved stability and heat dissipation. Like the coilovers up front, these shocks are made out of 6061-T6 aluminum and use an Internal Floating Piston (IFP) design to provide improved response while handling up to an extra 1.5" of rear lift. The shock has an internal reservoir design with specially formulated oil that resists heat buildup for reduced fade. The shocks are paired up with a set of Fox 2.0 Roost shields that add some protection and longevity to your Fox rear shocks.
Fitment:
2015-2020 F150 4WD.