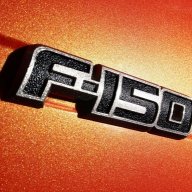 Administrator
Staff member
Joined

Dec 22, 2019
Messages
Reaction score

654
Location
Vehicles

F-150
Occupation

Admin
Clearly Not A Standard F-150 Center Stack
While the engineers kept the interior heavily shrouded, there is no question that the standard F-150 dashboard design has been heavily modified on this prototype. The current F-150's 12-inch screen is topped by a thick hood with beveled corners, incorporating physical buttons above the display. The EV prototype photographed here shows clear hints of a vertically-oriented, tablet-style screen with a smoothly-integrated outer bezel— with no signs of any surrounding trim. In other words, it looks like the Mustang Mach-E's 15.5-inch infotainment screen.
A Direct Match With 2023 Expedition's Big Mach-E-Style Screen
Bringing the Mach-E's screen to one of Ford's big truck platforms is nothing new, as Ford has been testing facelifted 2023 Expedition prototypes with what appears to be the Mach-E's massive screen since last fall. We have clear photos that prove it (see last photo). Comparing what we can see of the F-150 EV's infotainment screen with the '23 Expedition's Mach-E-style display, and they are an exact match.
Sharing Screens Among Its EVs Makes Sense—And Ford Made It Easier To Do So
Ford's strategy to go big on the Expedition's screen seems extra savvy, as it made the possibility of a huge tech-friendly display in its most forward-thinking, fully-electric F-150 something of a plug-and-play proposition. Also, equipping its two flagship EVs with the same screen will allow Ford to use the same user interface when it comes to considerations specific to an electric vehicle. Things like mapping for EV charging locations, range projections, etc. can be consistent with the Mach-E and F-150. Further, the time and investment in improving those interfaces can benefit now both vehicles via over-the-air software updates. As Ford navigates the tricky new world of EVs, streamlining the user interface and functionality over multiple vehicles make a lot of sense.
F-150 Familiarity, But With More Modern Amenities
Instead of creating something "out there" like the Tesla Cybertruck, Ford is instead banking on the familiarity and brand loyalty of the F-150 lineup. So, despite clear design differences in its front-fascia, tail-lights, and fenders, Ford's electrified F-series will still be instantly recognizable as an F-150. Recent internet rumors even stated that the F-150 would simply share its interior and screens with the rest of the ICE F-150 lineup. We can confidently say that this doesn't appear to be the case. To our eyes, Ford will offer a big, Tesla-style screen in its F-150 EV, at least optionally.
F-150 EV Rear Suspension
The rear suspension design differs greatly from the F-150 EV mule, which made the PR rounds over the last year. The new rear suspension and integrated rear electric motor is a complete clean-sheet design, with none of the apparent parts-sharing that seemed to be the case on the mule. Reports suggest that Ford is utilizing the Magna eBeam system, which has the electric motor housed within the differential or rear axle. Initial presentation of the eBeam suggested use with a leaf-spring suspension, but the F-150 is clearly using independent rear suspension with coil springs. The rear motor, seen here well-protected by a skid plate, does resemble the eBeam system, however.
We've spotted the F-150 EV with two new wheel designs, and two tire specifications. One prototype is running on new EV-specific aero wheels wearing General Grabber tires. Another prototype is wearing 275/65R18 Michelin Primacy tires, with a different wheel design. One prototype is equipped with running boards, another is not. It seems that multiple trim levels are under test at this time.
FORD EXPEDITION PROTOTYPE:
F-150 vs EXPEDITION PROTOTYPE COMPARISON: