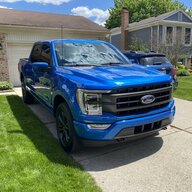 First Name

Bob
Joined

Mar 19, 2021
Messages
Reaction score

383
Location
Vehicles

2021 F-150 Lariat 502A, 3.5L PowerBoost
So, outside of these forums, I vented my frustration on social media and tagged @Ford on it. A social media specialist responded damn near immediately and I've been in constant, consistent contact via DM.

He's created an escalated case for my concerns and informed me a customer experience rep will be in formal contact with me by tomorrow at the latest.

I would definitely be a lot less cynical if I got this level of customer support in the first place. I really wish Ford could find a way to bypass the dealers, the dealers seem to be holding everyone back.

That being said, if Ford Corporate can light a fire under the dealer's ass, that would be awesome. Updates as they come.
I brought this up in one of our global town halls at Ford. They used to have reps at the F-150 forums and I think also Mustang forums. Not here that I know of, this forum is too new, but at f150forum for example. They would look out for upset customers that weren't getting traction with the dealer and PM them and respond on threads. That went away maybe 5 years ago? Tough to recall. I asked if they planned to bring that back, but while they did say they had plans in place to improve customer engagement, I got the feeling it was more social media related like you mention, and not forums.
Unfortunately, Ford's customer service and PR team seem
super
focused on social media channels, which is insanely frustrating because at this point social media in the form they worry about (Facebook especially) is a dying concern for most younger people and even those in the older generations that were still using it long after many younger gens already left. Forums are far older than even Facebook, but they generally have more reach with more engaged customers and also are easier to search from search engines, Ford 10000% needs to be here, and I plan on bringing it up with them again directly with the CX team.