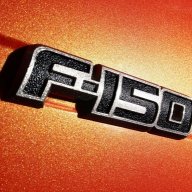 Administrator
Staff member
Joined

Dec 22, 2019
Threads
Messages
Reaction score

1,778
Location
Vehicles

F-150
Occupation

Admin
Q&A: Editor-in-Chief On Why Edmunds Chose Mustang Mach-E, F-150 for Top Honors
By Paul Kampe
Dec-16-2020 6 3
Alistair Weaver, Edmunds vice president of editorial and editor-in-chief, with the Mustang Mach-E at Edmunds' private test track. The publication named Mach-E its top-rated luxury EV and the Ford F-150 Top Rated Truck.
Edmunds has named Ford Mustang Mach-E its top-rated luxury electric vehicle and Ford F-150 its top-rated truck for 2021. Alistair Weaver, Edmunds vice president of editorial and editor-in-chief, provided @FordOnline with a behind-the-scenes look at the awards process and how the Blue Oval ended up taking home not one, but two best-in-class honors.
Weaver is a British auto journalist who moved into his current role at Edmunds in 2018, where he oversees a team of 30 people covering traditional, video and social media. He was the founder and CEO of Gaucho Productions, the team behind a memorable Mustang-Tinder blind date video in 2016 and a docuseries following the development of the Ford Focus RS.
Edmunds is well known for making recommendations to car shoppers about which vehicles they should purchase and how they should go about it. Weaver provided some insight into how the Edmunds awards vary from other industry accolades. His edited responses are below:
Q: Tell us a bit about how the Edmunds awards are different from other annual awards?
A: "The critical distinction is that each vehicle is up against all the cars on the market, not just new entrants. We're all about representing the needs of the consumer. It's not just about awarding the best cars that happen to have come out this year. That means we can and do have repeat winners."
Q: Was the vote for Mustang Mach-E unanimous in the luxury electric vehicle category?
A: "It's not so much a vote as a collective decision, but everyone on the team was fully supportive. Every vehicle we test gets a rating out of 10 and then gets compared with our rankings. To win, a vehicle has to get the highest score in its overall segment. We look at the highest-ranked vehicle in each sub-segment, then come up with the overall winner. It's based on the ratings and then we come to a collective decision. We're always comparing apples to apples."
Q: Why was Mustang Mach-E classified as a luxury electric vehicle?
A: "This was a tricky one, because the luxury electric vehicle category is new this year and it reflects a changing market, but we decided this would be for vehicles with a starting MSRP of $40,000. The Mustang Mach-E model we tested topped $50,000, and Ford is pitching it as sort of a premium brand alongside the normal Ford nameplate. There will be some eyebrows raised about the Blue Oval being classified as a luxury vehicle, but when you look at the price point, the rivals, the functionality, the overall quality, the interior and driving experience – it more than justifies the luxury tag."
Q: What is your favorite feature on the all-new Ford F-150?
A: "There are so many different ways you can tailor it. What Ford has done really well is to understand the varying needs of truck buyers and offer a little something for everyone. The little fold-out tables in the front are a great feature for people who use it as a working tool and fold-flat seats are a great feature if someone needs to sleep in their truck. The touch screen technology and the way that interfaces with the vehicle – trucks have gone from being a utilitarian tool to having the tech and fit-and-finish of a luxury vehicle. Ford has done a good job of offering that broad range, recognizing that people buy trucks for different reasons."
Q: What's in your garage?
A: "I'm very lucky. I get to drive a different car every single day because we test more than 300 vehicles every year on the road and on our own private test track. But in my personal garage I have a 1997 Porsche 993 911, and our family driver is a Tesla Model 3. I'm like the Los Angeles cliché."
Last edited: