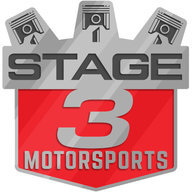 Well-known member
Diamond Sponsor
A little last minute, but entries are excepted through 11/30 So get entered and dont miss your chance to win.
We here at Stage 3 have put together
more than a few awesome F150 builds over the years
, but we usually sell them off quietly without much fanfare once the builds are done. Not this time. In a Stage 3 first, we're giving all of our customers the opportunity to win an awesome Stage 3 built 2020 F150! This project is beginning its life a stock 2020 F150 Lariat FX4, but will end up as menacing monster that's at home both on and off road. All you have to do to enter is sign up or spend money on eligible products right here at Stage 3 Motorsports. And earn bonus entries by following us on Instagram or YouTube and our build partners on Instagram. Get in your entries and follow the build right up to its final form below.
Last edited: